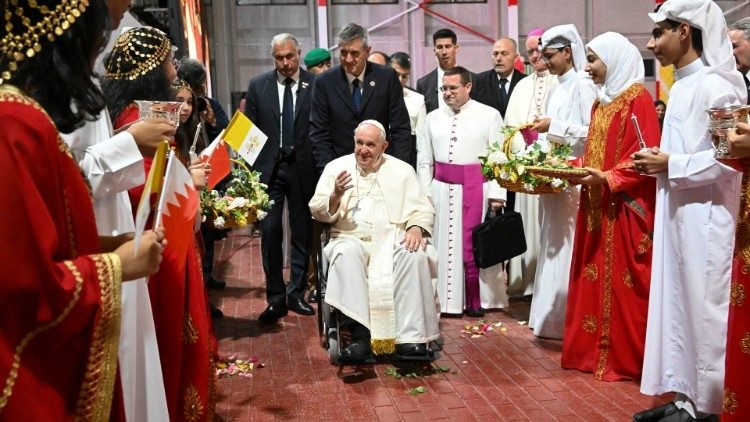 Following Pope Francis' historic Apostolic Journey to the Kingdom of Bahrain in November 2022, 'The Bahrain Declaration' promoting interreligious dialogue and peace holds official European launch at Gala in Rome
By Deborah Castellano Lubov
'The Bahrain Declaration' promoting interreligious dialogue and peace among religions, has had its official European launch at a Gala in Rome.
The event follows Pope Francis' historic visit to the Kingdom of Bahrain in November 2022, where, welcoming the invitation of the nation's authorities and the local Church, he brought a message of peaceful coexistence among religions and working together against war.
The gala dinner of the launching ceremony, was organized by the King Hamad Global Centre for Peaceful Coexistence and "This is Bahrain" took place on 26 January 2023 at the Rome Marriot Park Hotel.
The Bahrain Declaration was first launched in 2017 in Los Angeles at a historic event attended by His Royal Highness Prince Naser Bin Hamad Al Khalifa and co-sponsored by the Simon Wiesenthal Centre.
This was followed by a second launch in 2020 in São Paulo, Brazil, in the presence of the then President of the Federal Republic of Brazil.
The launch of this Declaration in Europe takes place in these times of hardship and war.
The Declaration carries the directions, objectives and messages of His Majesty King Hamad bin Isa Al Khalifa, the country's monarch, calling for religious tolerance and harmony.
More than 300 distinguished dignitaries from Bahrain and Italy, and more than 100 graduates of the King Hamad Chair for Interfaith Dialogue and peaceful coexistence from Italy and other countries around the world, participated.