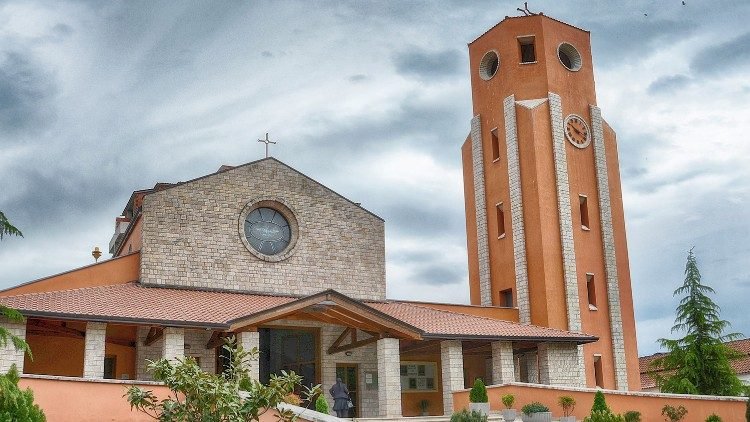 As celebrations for St. Patrick's Day take place internationally, 17 March, the President of the Irish Bishops, Archbishop Eamon Martin of Armagh and Primate of All Ireland, reflects on the beloved saint and offers us some Irish blessings.
By Deborah Castellano Lubov
While St. Patrick's Day celebrations are taking place around the world, the President of the Irish Bishops, Archbishop Eamon Martin, takes us back to the much-loved saint, and offers us his Irish blessing.
Archbishop, how would you describe the importance to the Irish people and Catholics of Saint Patrick's Day?
Of course, I'm speaking here from Armagh, which is the ecclesiastical see of Saint Patrick. And it is believed that it was here, in my cathedral church, on this place, that Patrick established his foundational church. For all the Irish people, it's a great day to link up with the Irish all over the world. Saint Patrick is really a saint for the whole world.
Archbishop Eamon Martin
In fact, I read somewhere recently that apart from Saint James the Apostle, and Our Lady, there are probably more churches dedicated to Saint Patrick throughout the world than any other saint, and we're very proud of that here in Ireland, of course. But in saying that he is a saint for all the world, I'm not just talking about links and connectedness with Saint Patrick.
I genuinely think that Saint Patrick is a saint for the modern day, because when we read his writings, we realize that he as a young teenager was trafficked to Ireland.
"St. Patrick was a victim of human trafficking and therefore for that reason he had a great empathy for all those who were suffering or who were displaced, or for people who were for any reason oppressed or exploited."
So a saint for the trafficked as well?
In fact, when he returned to Ireland much later in his life as a bishop, he spoke out against the trafficking of his newly converted Christians who were being kidnapped and taken away into slavery. So along with Saint Josephine Bakhita, he is a perfect patron for those who are human trafficked in the world today.
I'm very conscious this week we're celebrating ten years of the pontificate of Pope Francis. He has asked us all to listen out for the cry of the poor, the cry of the migrant, the cry of the earth. And we could include in that also the cry of the trafficked, the cry of those who are being displaced due to war and violence. I think in all of those people, they find in Saint Patrick, somebody who could have empathy and understanding of the predicament of the modern world. He's truly a saint for the modern world and a saint for the whole world.
Archbishop, I had seen that Saint Patrick is also patron saint of Nigeria.
Yes. In Ireland, we've had missionaries moving out from this country over many, many centuries, and we have a huge Irish missionary movement at the end of the 19th century and in the 20th century. Nigeria was very largely evangelized by Irish missionaries, sisters, priests and lay people. And therefore, yes, of course, in Patrick is a popular saint in Nigeria. And I've been there and had the joy of meeting people who had a great affiliation with him and with Ireland.
And how are you spending Saint Patrick's Day yourself, Archbishop?
I'm here in Armagh, so it's de rigueur that the Archbishop of Armagh is present. Last night, we had an ecumenical walk, a vigil, walk for peace, because in Ireland we're really working hard to sustain our peace process and so we met up from the different Christian traditions to do a vigil, Walk for Peace. Today, I'll have our own big celebration and Eucharist in the cathedral at 11 am. It's on webcam, if someone wants to tune in through the feed. We'll also have our parade in the afternoon where we'll meet up with the community just to celebrate Saint Patrick, our patron saint.
Thank you so much, Archbishop, for the time.
In Irish, we use an Irish blessing for Saint Patrick's Day. Beannachtaí na Féile Pádraig oraibh ar fad. 'May the blessings of Saint Patrick's Day be with you all.'