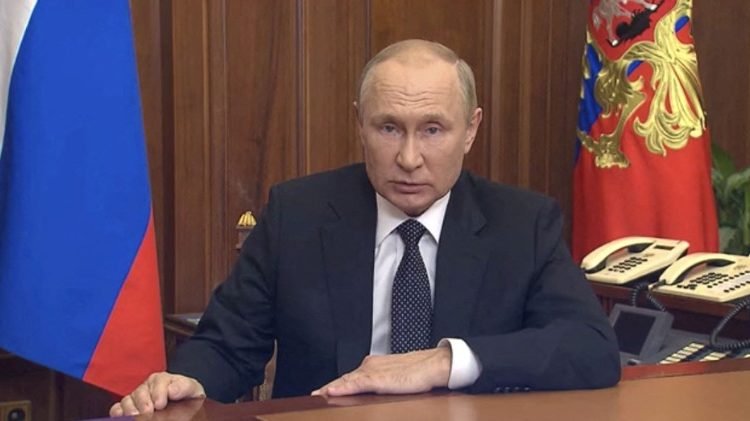 Russian President Vladimir Putin has warned the West that he is not bluffing over nuclear weapons and that military reservists are to be sent to Ukraine as part of a partial mobilization of Russian forces. Wednesday's threats came ahead of plans to organize referendums in Russian-occupied territories of Ukraine.
By Stefan Bos
The world edged towards even more instability Wednesday, with Russia's President Vladimir Putin speaking about a possible nuclear conflict amid the ongoing Russian invasion of Ukraine.
He said that "Even nuclear blackmail has come into play. We are talking not only about the shelling of the Zaporizhzhia nuclear power plant in Ukraine encouraged by the West, which threatens to unleash a nuclear catastrophe. But also about statements made by some high ranking representatives of leading NATO military alliance countries on the possibility and admissibility of using weapons of mass destruction against Russia nuclear weapons."
President Putin added: "I want to remind those who allow themselves such statements about Russia that our country also has a variety of weapons of mass destruction and in some areas even more modern than those in NATO countries."
He warned that "if the territorial integrity of our country is threatened, we will, without question, use all means at our disposal to protect our people and Russia. This is not a bluff."
In his televised address to the nation, Putin also said Moscow would send additional Russian forces into Ukraine to ensure what he called "Russian territorial integrity."
His Defence Minister Sergei Shoigu said in separate remarks that 300,000 would support the Russian military campaign in Ukraine, Russia's first mobilization since World War Two.
Russia weakened?
Shoigu also said 5,937 Russian soldiers had been killed since the start of the conflict, much lower than other estimates.
Faced with massive battlefield losses, President Putin accused the West of wanting to see Russia weakened.
He spoke as Western nations condemned Moscow's plans to hold so-called referendums in parts of Ukraine that are currently under Russian control.
The United States, Germany, and France have said they would never recognize the results of what they called such "sham" ballots.
And world leaders were gathering in New York for a United Nations meeting — in which U.S. President Joe Biden and Ukraine's President Volodymyr Zelensky are also participating.