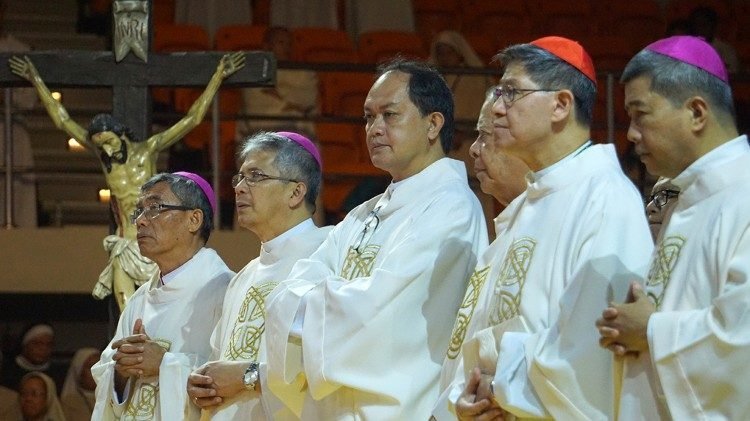 By Robin Gomes
Pope Francis has invited Filipinos to be "missionary disciples" to proclaim the joy of the Gospel.
Apostolic Nuncio, Archbishop Gabriele Caccia sent the message on the Pope's behalf to the participants in the 5th Philippine Conference on New Evangelization (PCNE5) taking place at the University of Santo Tomas in Manila.
Good News
In the message, read on Wednesday by Cardinal Luis Antonio Tagle, Archbishop of Manila, during a Mass at the end of the first day of the PCNE, the Pope told Filipinos to go out into the world on a mission and proclaim the Good News.
"He prays that the participants will be will be challenged to a missionary discipleship and transformation, setting their vision not only within the Philippine archipelago but also to the vast continent of Asia and even beyond," said the message.
The July 18-22 conference has as its theme: "Moved with Compassion Feed the Multitude."   The programme of the 5-day conference is related to the celebration of the current Year of the Clergy and Consecrated Persons as declared by the Catholic Bishops' Conference of the Philippines (CBCP).
Around 2,000 participants, mostly priests and religious men and women, attended the first day of the conference.
Joy of the Gospel
The papal message said "it is vitally important for the church today to go forth and preach the Gospel to all places on all occasions without hesitation, reluctance or fear. The joy of the Gospel is for all people. No one can be excluded. Evangelii Gaudium 23)."
"May everyone find inspiration in the Lord Jesus who manifested the face of the God of Mercyin His command that the disciples feed the multitude," the message added.
In 2012, the Catholic Bishops' Conference of the Philippines (CBCP) began a 9-year preparation for the year 2021, the 500th anniversary of the arrival of the Gospel in the Philippines.
Since then each year has been dedicated to specific aspects of the Church and Christian life.  (Source: CBCP News)