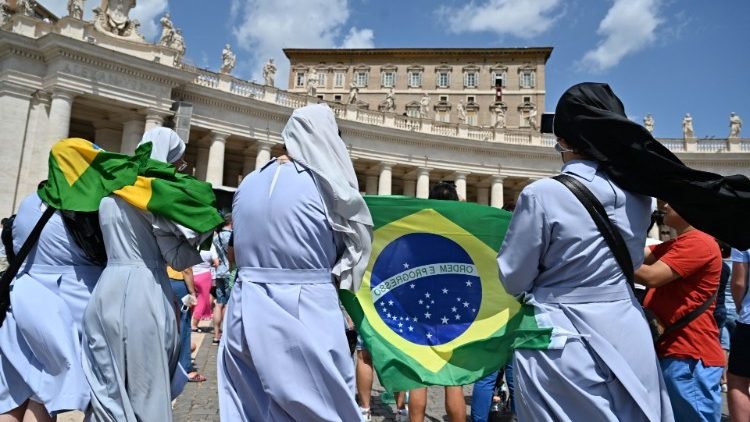 This Ash Wednesday, Pope Francis calls upon Brazilian faithful to commit themselves to combatting the "plague" and "scourge" of hunger worldwide, as he encourages the work of the 2023 Fraternity Campaign, launched by the National Conference of Bishops of Brazil.
By Deborah Castellano Lubov
This Lent, Pope Francis has called for concrete action and awareness to combat the "scourge" of hunger.
In his message to the 2023 Fraternity Campaign, launched by the National Conference of Bishops of Brazil on Ash Wednesday, the Pope recalled the millions suffering and dying of hunger, and our responsibility to combat this "plague."
"Each year, during the season of Lent, we are called by God to follow a path of true and sincere conversion, redirecting our whole life towards Him…"
As we prepare for celebrating God's love for us at Easter, the Pope observed that through penitential Lenten practices of intensified prayer, almsgiving and fasting, we collaborate better with the action of the Holy Spirit, Who sanctifies us.
The 'scourge of hunger'
The Pope recalled that this year's Fraternity Campaign proposes that we turn our gaze towards our neediest brothers and sisters, and in particular, those affected by "the scourge of hunger."
Even today, he lamented, "millions of people suffer and die of hunger," while, shamefully, so much food is wasted and discarded.
"This is a real scandal. Hunger is criminal, food is an inalienable right."
Jesus' instruction to the Apostles to feed the people, Pope Francis insisted, "is addressed today to all of us, and His call to share – the much or the little we have – with our brothers and sisters who do not even have enough to feed themselves."
"We know that by meeting the needs of those who suffer hunger," he said, "we are satiating the Lord Jesus himself, who identifies himself with the poorest and hungriest: "I was hungry and you gave me something to eat…'"
Concreteness and awareness
The Pope expressed his great desire that the reflection on the theme of hunger, proposed to Brazilian Catholics during the Lenten season, will lead to concrete actions and generating awareness.
He called for an awareness that cultivates sharing God's gifts, not only in a certain moment, or during a campaign, "but must be a constant attitude of all of us," not only in our parish and diocesan structures, but also in government bodies and throughout civil society, so that, working together, "they can definitively eradicate the scourge of hunger from Brazilian lands."
Entrusting to Mary
Entrusting these vows to the care of Nossa Senhora Aparecida, Pope Francis imparted his Apostolic Blessing so that no one suffers hunger, and requested their continued prayers.