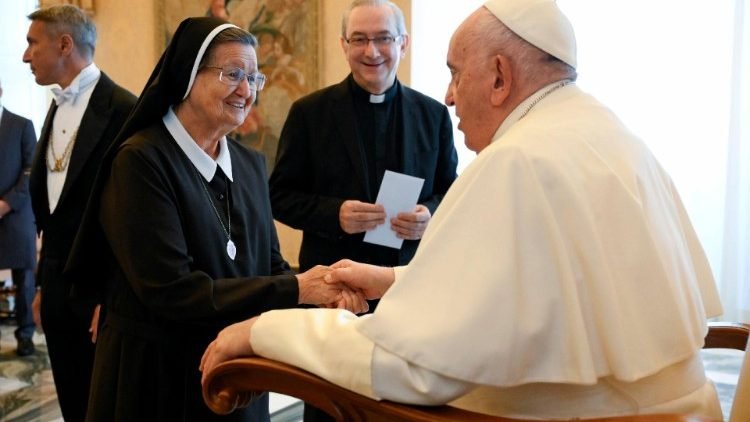 In an address to two religious orders, Pope Francis encourages consecrated religious to spend time daily in dialogue with the Lord and to speak to him "before every important moment, every meeting, every decision."
By Joseph Tulloch
The Daughters of Divine Zeal and the Rogationists of the Heart of Jesus, two religious orders founded by the same Sicilian saint, are in Rome for their respective General Chapters.
Earlier on Monday, they met with Pope Francis, who spoke to them about prayer, and in particular, prayer for vocations, which is a central focus of both orders.
Praying for pastors
There was "one particular passage of the Gospel," Pope Francis noted, which inspired the Sicilian nobleman Annibale Maria di Francia to abandon his wealth and found both the Daughters of Divine Zeal and the Rogationist Fathers.
This verse, which the Pope read aloud to those present, comes from the Gospel of Matthew: "The harvest is plentiful, but the laborers are few; therefore pray earnestly to the Lord of the harvest to send out labourers into his harvest."
This line, he said, "filled [Saint Annibale's] heart with zeal." Given the poverty by which he was surrounded, this Italian nobleman "felt, like Jesus, an intense compassion for humanity, poor in body and in spirit."
His first reaction, the Pope explained, was to pray: "Not, of course, in order to convince God to send pastors, as if he did not take care of his people, but rather in order that we might be ever more overwhelmed by the viscerality of his paternal and maternal love: that we might learn, through prayer, to be sensitive to the needs of his children."
Praying for guidance
"Prayer", Pope Francis stressed, "is the red thread that runs through the life of Saint Annibale."
It was in prayer that the Sicilian saint received his vocation, and, "Indeed," the Pope reflected, "when you put yourself, meek and humble, before God, you are often gifted with a specific understanding of your own life."
This, at least, was Saint Annibale's experience. "But it applies to everyone: without prayer you can't get by, you don't know where you're going. So it's important to have a prolonged dialogue with the Lord every day, and to appeal to Him before every important moment, every meeting, every decision."
The General Chapter
At the General Chapter of the two orders, Pope Francis noted, "you have been able to address issues such as consecration, charismatic identity, fraternal communion, and mission."
These, he said, are "fundamental aspects of religious life, the deepening of which requires the capacity to listen and discern, in prayer and with sharing, and requires, too, a good deal of courage."
Bringing his address to an end, he laid aside his prepared remarks and spoke off-the-cuff: "Thank you for what you do, thank you for your witness. Thank you for your hands, which are joined [in prayer]: not glued, no, because afterwards they have to go to work, but joined. Please continue to pray for vocations. And please make sure not to forget to pray for me, as well."