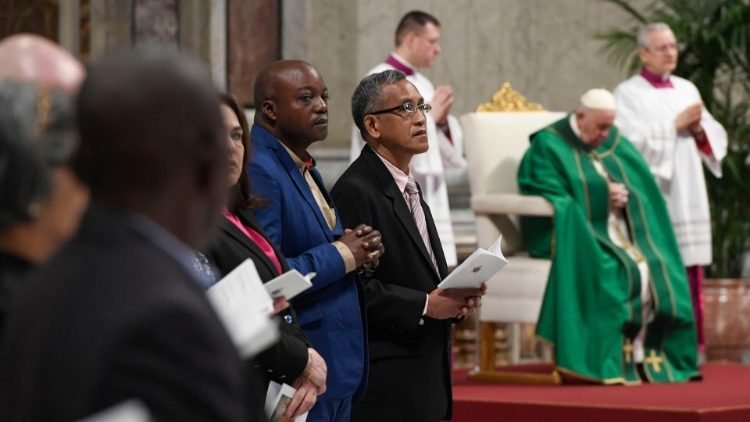 During his Sunday Angelus address on the Sunday of the Word of God, Pope Francis urges the faithful to be amazed by how God speaks to and enlightens us, directly through His Word, and, this Week of Prayer for Christian Unity, prays for unity among Christians, especially as the war wages on in Ukraine.
By Deborah Castellano Lubov
"Let us rediscover with amazement the fact that God speaks to us, particularly through the Holy Scriptures."
Pope Francis gave this powerful reminder following his Sunday Angelus as he addressed the thousands gathered in St. Peter's Square, pointing out to the faithful that this Third Sunday of Ordinary Time is dedicated in a special way to the Word of God.
Today marks the Sunday of the Word of God, instituted by Pope Francis in 2019 as a way to promote the study of Sacred Scripture, and give new life to the responsibility of all believers to deepen their knowledge of Scripture.
This year, the Day's theme is a verse from St. John's Gospel, "We proclaim to you what we have seen" (1 Jn 1:3).
Earlier today, the Pope presided over Mass for the Day in St. Peter's Basilica.
God's Word enlightens us
The Holy Father appealed to the faithful to get closer to the Lord through His Word, encouraging everyone to read, study, meditate, and pray, as we are inspired by the Word of God.
"Every day let us read a passage from the Bible, especially the Gospel: there Jesus speaks to us, enlightens us, guides us."
The Pope recalled what he has said on numerous occasions to have a small Gospel, or a pocket Gospel, to carry it in your bag, always with you; and when there is a moment during the day, to read something from the Gospel. He said it is Jesus who accompanies us.
Praying for Unity of Christians
The Pope also remembered that this week marks the Week of Prayer for Christian Unity.
"In these days, as we pray in particular for the full unity of all Christians, let us not forget, please, to invoke peace for the tormented Ukraine: may the Lord comfort and sustain that people who suffer so much!"
The worldwide theme for this Week of Prayer for Christian Unity, 18 – 25 January, is, "Do good; seek justice."
The week marks an ecumenical initiative in which Christians from all over the world gather spiritually in prayer for the unity of the Church.