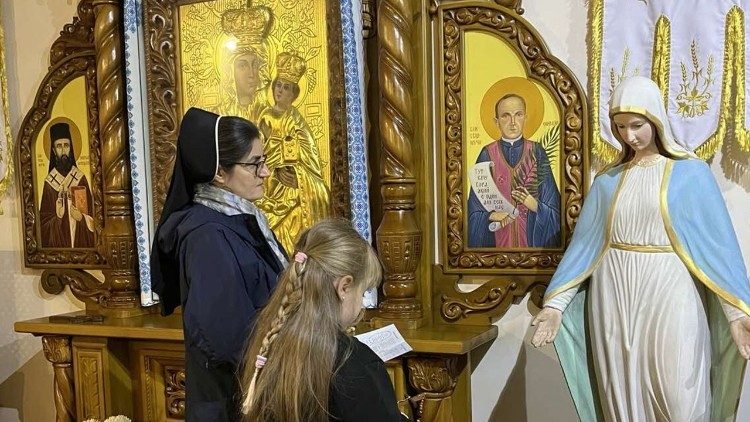 Two Ukrainian bishops and a religious sister share the importance of the Day of Fasting, Prayer, and Penance for Peace in the World, as called for by Pope Francis.
By Svitlana Dukhovych
"Pope Francis' appeal to dedicate the day of 27 October to prayer, fasting and penance for world peace is very important for us in Ukraine," said Bishop Vasyl Tuchapets, the Archiepiscopal Exarch of Kharkiv of the Ukrainian Greek Catholic Church's Kharkiv.
"The large-scale war has been going on for more than a year and a half, and every day people here live in mortal danger. This also affects people's state of mind. They long for peace and many times they also ask me when will the war end," noted the Bishop, in an interview with Vatican News.
He emphasized that during prayer meetings, even children ask God for peace and an end to the war, as well as praying for their fathers to return soon from the frontlines.
Prayers throughout the country
The Pope's initiative was supported by Major Archbishop Sviatoslav Shevchuk, the head of the Ukrainian Greek Catholic Church.
In his video message on 22 October, the Major Archbishop asked all Greek Catholic faithful to join the Day of Prayer for Peace: "Let us join the universal Church in prayer before the face of God and invoke peace."
A Divine Liturgy for peace will be celebrated in every Greek Catholic church on Friday, at 7 p.m. Kyiv time (6 p.m. Rome time).
Tragic weeks in Kharkiv
Both the city of Kharkiv and the entire region, which borders Russia, are under constant attack by the Russian army.
"The last few weeks have been particularly tragic for us," said Bishop Tuchapets, "because civilian targets have been bombed. In the attack on a club in the village of Hroza (5 October), 60 people were killed, and a few days ago a post office in Kharkiv was hit where 6 people lost their lives and 16 were wounded."
He pointed out that all victims were civilians who were simply doing their jobs.
"People are suffering, civilians are dying, and this situation of constant danger creates so much uncertainty. But despite all this, people remain united and try to help each other," he said.
The bishop added that many people from border towns and villages are moving to Kharkiv, which is a bit safer.
They stay in the city's dormitories and are in the need the basic things like food, warm clothes, blankets and medicines.
Many people also come for support at the Greek Catholic Cathedral of St. Nicholas in Kharkiv.
"We are working to find humanitarian aid to support people as much as possible, although lately it is not easy," said Bishop Tuchapets, "especially now, when the cold weather comes, to help them survive the winter."
Bishop Skomarovskyi: fasting with prayer is particularly powerful
"For us, this prayer initiative is an expression of the great solidarity of the Catholic Church, and not only of the Catholic Church, because the Pope has also invited other denominations and religions to join in this supplication for peace," said Bishop Vitaliy Skomarovskyi of Lutsk, president of the Conference of Latin rite Bishops of Ukraine.
"In our parishes we will hold penitential prayers for world peace and we have also encouraged everyone, as much as possible, to observe fasting on this day because fasting with prayer is a particularly powerful form of supplication."
Bishop Skomarovskyi said that for the Ukrainian people who are victims of aggression, it is very important to understand that they are not alone in this situation.
The war is a very difficult challenge, and it is also difficult to keep hope alive.
"One cannot live without hope either," he said, "because if we lose it, everything loses meaning. So, we keep hoping that God will help us through this difficult time."
"All that we are experiencing now, the horror of war," added Bishop Skomarovskyi, "is actually so terrible because it touches, above all, ordinary people, poor people who lived normally in families and led normal lives, and now our boys die at the front, women become widows, children become orphans."
He also expressed gratitude to all people who are helping Ukrainians.
"I am very grateful to all the people who maybe hear about us only from the news, but they want to be with us, they want to help us, and we are very, very grateful. Please also remember the gratitude of the Ukrainian people to all the people who help us."
Sister Anastasia: scientists, musicians and parents are dying
Gratitude for prayer and support also comes from Odessa, expressed by Sister Anastasia Zabrotska, a member of the Congregation of the Sisters Ancillas of Mary Immaculate who is serving at St. Andrew's Cathedral of the Greek Catholic Exarchate of Odessa.
Sister Anastasia told Vatican News that in response to the call of Pope Francis and Major Archbishop Sviatoslav Shevchuk, the exarchate is organizing several initiatives.
"The cathedral will remain open all day so people can come and pray in silence before the Blessed Sacrament and also will have the opportunity to talk to the priest or even go to confession," she said. "In the evening at 6 p.m. there will be Holy Mass with prayers for peace during the ektenie, after that in the cathedral we have Holy Rosary and Jesus' Prayer hours."
Sister Anastasia moved to Odessa only two months ago. "When I hear the air raid warning sounding," she said, "I realize that this is a real danger, a possibility that a missile may arrive not in half an hour or 45 minutes, but much faster in 10 to 15 minutes because we are actually on the front line here as well even if it passes into the sea."
The religious sister also recalled that people are dying everyday: "children, scientists, artists, musicians, even surgeons are dying, future scholars, future researchers, religious, and even future fathers and mothers are dying just because at this moment in history they were born in Ukraine."
She also expressed her gratitude to Christians, people of faith, representatives of different denominations and religions, "who pray for us and ask for peace from Heaven for Ukraine."