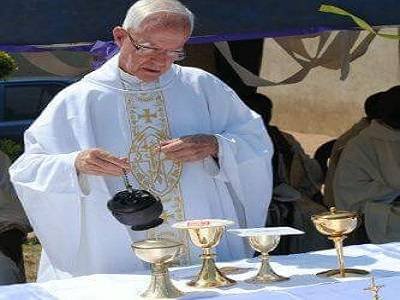 Reverend Father Angus Fraser, the longest serving teacher and missionary in Nigeria, is dead. He was aged 87.
The Catholic priest died on Monday, after a brief illness at Princess Royal Hospital, Farnborough, United Kingdom, where he was receiving treatment.
A statement by Fr. Jude Ortese, Chancellor of the Catholic Diocese of Makurdi, noted that Fraser was the founding principal of Mount Saint Gabriel's College, Markudi in 1971. He also founded the Via Christi Society.
Ortese said the Catholic Church "was saddened to announce the death of Very Revd Fr Angus Fraser, the founding Principal of Mt St Gabriel's Secondary School (MSG) Makurdi and founder of Via Christi Society".
According to NAN, Fraser who bagged the THISDAY award of the 'Longest Serving Principal in Nigeria' in Abeokuta in 2013, received a National Award of Member, Federal Republic of Nigeria (MFR), in 2003 under theOlusegun  Obasanjo-led administration and a 'Lifetime Achievement Awards' by the former US President, Bill Clinton as the 'Best Teacher in Nigeria' in the same year.
The late priest taught renowned politicians, technocrats, dons, musicians, and captains of industry.