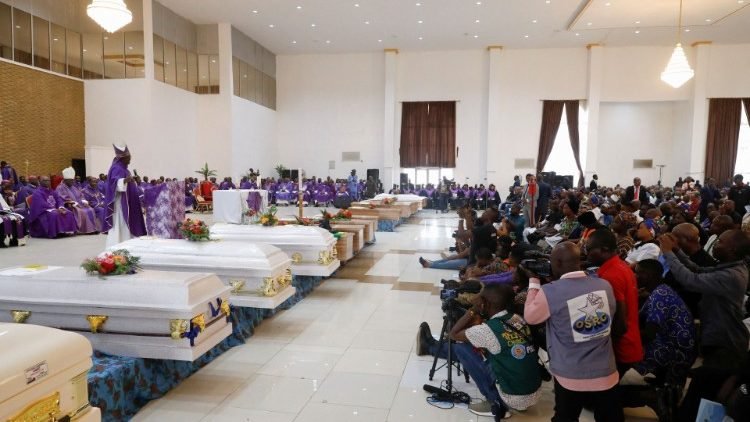 A month after the Owo Pentecost massacre, Bishops of the Ibadan Ecclesiastical Province call for special prayers.
Paul Samasumo – Vatican City.
"As a month rolls by after the bloody crime against God and humanity perpetrated at St. Francis Catholic Church, Owo, Nigeria on Pentecost Sunday 5 June 2022," the Metropolitan Archbishop of Ibadan, Gabriel 'Leke Abegunrin, has invited Catholic clergy, the religious and lay faithful to observe a day of prayer in commemoration of the tragic event and to pray for the departed souls.
The Metropolitan Archdiocese of Ibadan's suffragan dioceses include Ekiti, Ilorin, Ondo, Osogbo and Oyo.
Praying for Nigeria
"We must do all in our power to bring our country back to the path of justice, peace and the fear of God. This cannot happen without an unflinching commitment to prayer," said Archbishop Abegunrin. He added, "We earnestly urge all the faithful in our Ecclesiastical Province, therefore, to join this prayer crusade for the mercy of God and strength for the Church and all the faithful."
Special prayers and fasting are to be observed on Tuesday, 5 July 2022, exactly a month after gunmen attacked parishioners during Pentecost Sunday Mass at St Francis' Catholic church. Federal authorities suspect the Islamic State – West Africa Province of carrying out the massacre. Some reports estimate the number of people killed to be well over 50.
The Bishops of the Ibadan Ecclesiastical Province have directed that the day of prayer and fasting conclude with Holy Mass or Adoration and Benediction.
The Benin National Eucharistic Congress
In the meantime, the Ibadan Bishops are also encouraging the faithful to make an effort and attend the forthcoming National Eucharistic Congress to be held in the Archdiocese of Benin from 11 November to 13 November 2022.