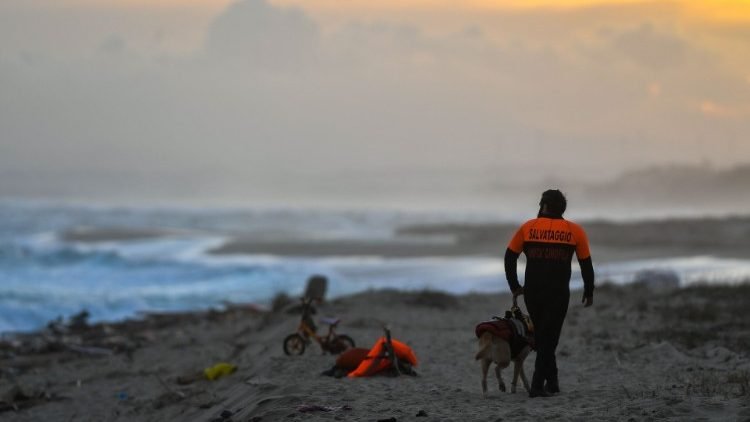 The number of known victims is growing, while many more remain missing after a boat sank a few metres from the coast of the Italian province of Calabria.
By Francesca Merlo
There were over 200 passengers on the boat: men, women and children, mainly from Iran, Afghanistan, Pakistan and Syria undergoing the perilous journey of hope along the Turkish route, the one most travelled by migrants from the Middle East and least travelled by NGO ships.
This migrant boat, too, like so many before it, was overcrowded, which, added to the rough seas, caused yet another mortal tragedy.
The fishing boat could not withstand the force of the waves, which caused it to bend and break into two pieces, just a few metres from Italy's Calabrian coast.
The numbers are harrowing: fifty-nine bodies have been recovered from the sea by rescuers, but it is feared that the number of dead may exceed 100.
Among the victims are twins who were just a few years old and a baby who was only a few months old: a total of 14 minors are missing. At the moment, 81 shipwrecked people have been rescued: of these, 21 have been taken to Crotone Hospital in serious condition.
A prayer from the Pope
On Sunday afternoon, just hours after the tragedy, Pope Francis prayed for both the victims and the survivors of the terrible shipwreck.
Addressing the faithful during his Sunday Angelus, the Pope also expressed his gratitude towards all those who participate in rescue operations, as well as to all those who offer welcome to those seeking refuge.
Solidarity of the Italian bishops
Joining Pope Francis in his appeal for closeness to the countless migrants who risk their lives – and often lose them – attempting to cross the Mediterranean is Cardinal Matteo Zuppi, President of the Italian Conference of Catholic Bishops.
In a message written on behalf of the Italian bishops, Cardinal Zuppi writes, "A deep sadness and acute grief run through the country for yet another shipwreck that has occurred on our shores. The victims belong to everyone and we feel them to be ours."
"This umpteenth tragedy," the message continues, "in its dramatic nature, reminds us that the issue of migrants and refugees must be addressed with responsibility and humanity."
The Cardinal notes the need for "choices and policies, national and European, with a new determination and with the awareness that not making them allows similar situations to repeat themselves."
Finally, the Cardinal writes that we need "a structural response and solidarity between institutions and countries so that no one is left alone and so that Europe can live up to its traditions of defending the person and welcoming people."