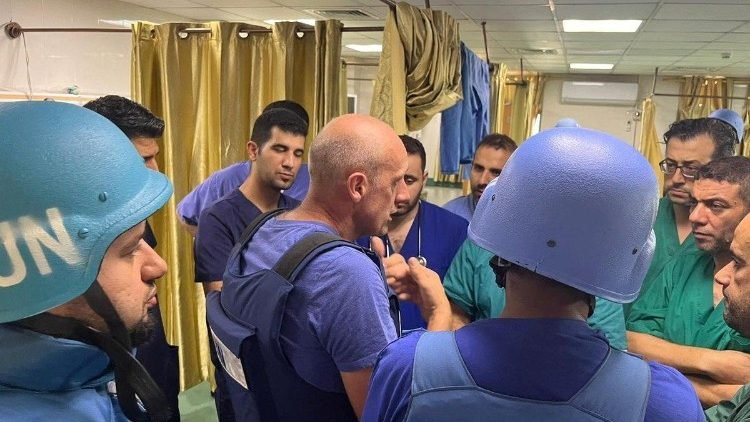 International doctors who've visited the Al Shifa hospital in Gaza following an Israeli raid on the complex, say it now resembles 'a death zone'.
By Nathan Morley
International doctors who've visited the Al Shifa hospital in Gaza say its now 'like a death zone'.
Israeli forces moved into the complex last week, saying Hamas was using it as a base for military operations.
Now, though, with the scars of gunfire, shelling and a mass grave near the entrance – the Al Shifa complex is in disarray.
The medical team – led by the World Health Organisation (WHO) – said that after Saturday's evacuation, there were still 25 health workers and 300 patients left in the facility.
Some have infected wounds due to a lack of antibiotics.
Mark Regev, a senior advisor to the Israeli Prime Minister, blamed Hamas for the situation there. 'Obviously, conditions in the hospital are very difficult,' he said. 'And that is because Hamas deliberately turned the hospital into a warzone.'
Airstrikes on central and southern Gaza
Meanwhile, Israel has carried out more airstrikes on central and southern Gaza. News reports say 13 people were killed.
Elsewhere, Qatar's Prime Minister has said only "very minor" obstacles to a hostage release deal remain and these are mainly practical and logistical issues.
The Washington Post reported that Israel, Hamas and the US were close to agreeing to the release of some hostages in return for a pause in fighting.
More than 1,400 people were killed in the initial attacks on Israel by Hamas on 7 October, and Israel says more than 220 are still being held hostage in Gaza.
Thousands more – estimated at 12,300 – have been killed since Israeli strikes on Gaza began.