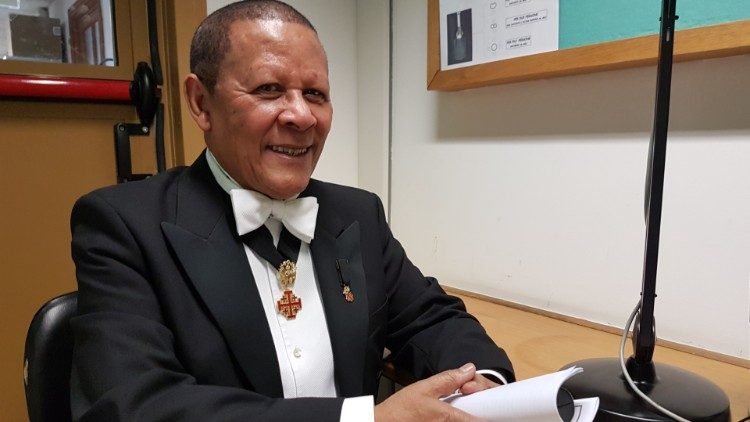 The immediate past Ambassador of South Africa to the Holy See, George Johannes, passed away in Rome, Italy.
Paul Samasumo – Vatican City.
Ambassador George Johannes died on 30 November 2022 at the Generalate House of the Missionaries of Mariannhill in Rome, where he had been staying with the community of Mariannhill priests and brothers from November 2021.
The congregation has its foundation in South Africa.
A devout Catholic
The leadership of the Mariannhill Generalate told Vatican News that on 30 November, Ambassador Johannes did not show up for morning Mass in the chapel of the generalate as had been his custom.
"That day, he did not come for Morning Mass and breakfast. When he also did not appear for lunch, the community became concerned. We knocked on the door of his room several times, but there was no response. Eventually, we opened his door, and we found him dead. We were shocked and very saddened. Ambassador Johannes was not just a friend of our community, he became a part of us and very often took one of the readings at Holy Mass. He hardly missed daily Holy Mass. May the soul of this humble and simple great son of Africa rest in peace." Fr. Patrick Chongo CMM, the Generalate House Superior, told Vatican News.
He was 78 years old.
Great admiration for Pope Francis
During his tour of duty as the ambassador of South Africa to the Holy See, George Johannes often spoke in glowing terms about Pope Francis. On several occasions, he told Vatican News that he was impressed with Pope Francis's grasp of African issues.
Once after an event at the Vatican, he told Vatican News, "What touched me the most is that Pope Francis has a very good feeling and understanding of what is happening in Africa," He added, "I spoke to Pope Francis, and I said to him: 'Your Holiness, we need you in Africa …. Your presence carries a certain message for Africa,'" Ambassador Johannes recounted.
Politician, teacher, diplomat, and Ubuntu
After leaving the diplomatic service slightly more than a year ago, Ambassador Johannes continued teaching at a Pontifical University in Rome. At conferences, he was always keen to share his knowledge about life in Africa, especially about the Philosophy of 'Ubuntu.'
George Johannes sometimes recalled the dark days of Apartheid, life in exile and his friendships with colleagues in the African National Congress (ANC) of South Africa. In his views, he was a pan-Africanist.
A proud Catholic, later, he would become an accomplished academic and a distinguished diplomat.
Further information on the repatriation of the remains of Ambassador George Johannes to South Africa will be communicated by his family and South African authorities.