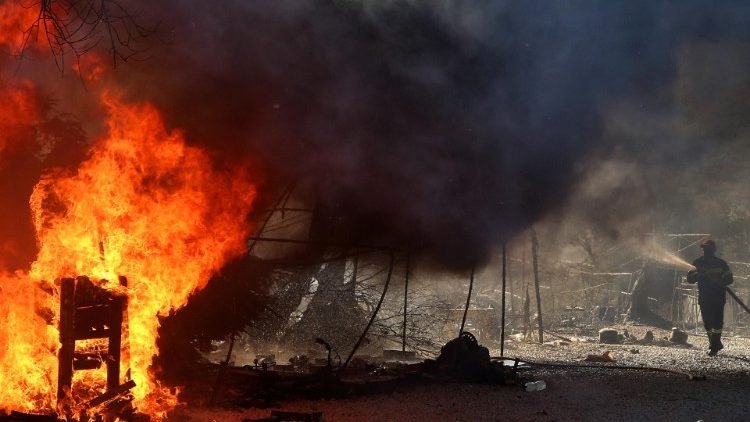 Religious leaders and humanitarian organizations call for protection of migrants and refugees after a major fire gutted Europe's largest refugee camp on the Greek island of Lesbos, destroying dwellings and causing thousands to flee.
By Vatican News
Approximately 13,000 migrants fled the overcrowded Moria camp on the Greek island of Lesbos as giant fires ripped through it on Tuesday night and another on Wednesday.
The cause of the fires is still unclear. Greek authorities, emergency responders and humanitarian organizations are racing to provide emergency accommodation and aid to the homeless asylum seekers.
Bishops appeal to governments
Following news of the tragic incident in the Moria camp, the Chairman of the Commission for Migrants and Special Commissioner for Refugee Issues of the German Bishops' Conference, Archbishop Stefan Hesse of Hamburg issued a statement in a statement published on the German Bishop's website on Wednesday. In it he appealed against indifference on the part of "anyone who bears responsibility in politics and Church."
"What is required is the political will to find a solution in the spirit of European solidarity."
Describing the fire as a "catastrophe already announced," he lamented the lack of action from authorities concerning the plight of migrants and refugees in Europe, adding that "consternation about the misery of those seeking protection is mixed with dismay for the political failure."
"There were emphatic demands that above all children, families and particularly vulnerable refugees from the Moria camp be brought quickly to the European mainland and received in Germany or other EU states," he continued. Instead, there were and still are efforts to conduct almost all asylum procedures at the external borders.
Insisting that "Europe can no longer afford to turn a blind eye," Archbishop Hesse called on countries to take steps to deal with the humanitarian crisis instead of potentially creating new trouble spots. They all have the duty to provide humane reception for migrants and refugees, he says.
"What is required is the political will to find a solution in the spirit of European solidarity," he said, pointing out that this involves "a fair division of responsibility between EU states in the reception of protection seekers." And, he continued, "if not all member states are prepared to do so, a humanitarian coalition of the willing must lead the way."
UNICEF: Children and vulnerable take priority
In its turn, the UN Children's Fund UNICEF expressed its "deepest sympathy" for the affected refugees and migrants. It indicated that it stands "ready to help address the urgent needs of more than 4,000 children, particularly 407 extremely vulnerable unaccompanied minors."
UNICEF also communicated that with its partners, it had transformed its "Tapuat Child and Family Support Hub", near the Moria camp, into an emergency shelter. There, the most vulnerable are temporarily being accommodated, including those with critical needs, until alternatives are identified.
The UN agency thanked local authorities, NGOs and frontline responders for their work in addressing the crisis. It pointed out that the coronavirus pandemic makes it more complex and critical to implement a swift and safe response.
"Last night's events serve as a strong reminder of the urgent need for a child-sensitive, humane EU Pact on Migration that respects children's rights to adequate protection and services through Europe," read the Wednesday statement.
Appeal from religious organizations
Centro Astalli, the Italian headquarters of the Jesuit Refugee Service (JRS) involved with accompanying, serving and defending the rights of refugees and displaced persons, also expressed concern about the fire in Moria.
"For some time, migrants and humanitarian organizations have been calling for the evacuation of the camp, denouncing the serious state of degradation and abandonment," said Fr. Camillo Ripamonti, president of Centro Astalli, in a press statement.
"It is time for the European Union to show solidarity" and "take action for the immediate evacuation of migrants from Lesbos," Fr. Ripamonti urged. He proposed that this be done via a "controlled distribution of migrants among member states" instead of grouping thousands of people camped in one place.
Doors need to open
In the same vein, the Saint Egidio Community has also appealed to EU member states to open their doors to the migrants who have lost everything and have been living in precarious conditions after making risky journeys from their countries – many from Afghanistan.
"Europe, if it still lives up to its tradition of civilization and humanity, must take responsibility through an act of collective responsibility," the Community said in a statement on its website on Wednesday.
The lay movement, which has been actively involved in supporting refugees, pointed out that the approximately 13,000 migrants housed at the Moria camp are mostly composed of families. Forty percent are minors, who "thirst for dignity and future."
To respond to the unfortunate humanitarian emergency of these hours, the community called for the urgent transfer of the evacuees to well-equipped camps on the mainland to "avoid further dramas of despair." It also appealed for access to be granted to associations present on the island to bring immediate aid to the refugees.