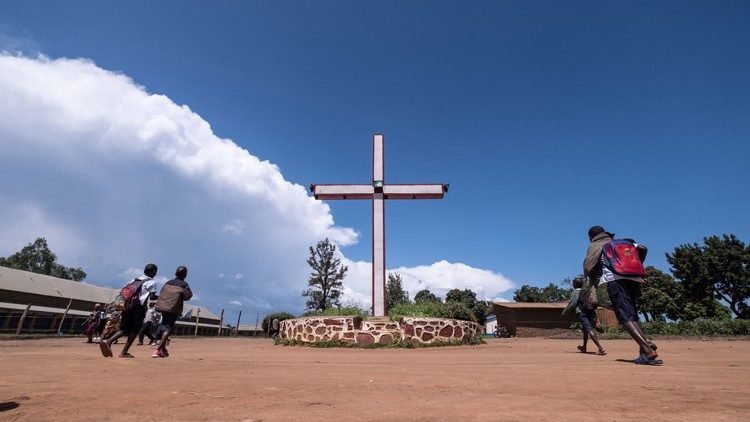 At the end of an extraordinary plenary session, the National Episcopal Conference of Congo says it is deeply concerned about the deteriorating security situation in the country.
Marie José Muando Buabualo – Vatican City with Jean-Baptiste Malenge – Kinshasa, DRC.
Bishops of the National Episcopal Conference of Congo, CENCO, met in Kinshasa recently for an extraordinary plenary assembly to examine measures on how to implement the framework agreement between the Holy See and the Democratic Republic of Congo.
Our country is in danger
In the final declaration issued at the end of their meeting, the Bishops expressed concern about the deteriorating security situation in the Democratic Republic of Congo, generally, and in the east of the country.
"The hour is grave. Our country is in danger! Let us not allow the DRC to be balkanised from North to South, from East to West, as well as in the diaspora. Let us all stand up to safeguard the territorial integrity of our country," said the Bishops.
CENCO has further invited Christians and people of goodwill to make gestures of solidarity towards those displaced by the fighting in the country's eastern region.
Death and displacement of civilians
For the past five months, parts of the DRC's North Kivu Province, situated in the eastern part of the country, including Bunagana, Rutshuru, and Kiwanja, have been in the hands of M23 rebels. The Bishops further observed insecurity was also rife in the Ituri Province, Provinces of Kongo-Central, Mai-Ndombe, Kwilu, and elsewhere.
The fighting between Congolese troops and M23 rebels has forced nearly 200,000 people to flee their homes. The massive displacement of people and the death toll increase as the crisis worsens.
"Our nation is in danger! If we are not careful, we will wake up one morning with a balkanised country," asserted the Bishops.
CENCO believes that it is high time that the State ensures the most basic right to life and security for all citizens and that the country regains its territorial integrity.
According to Human Rights Watch, M23 armed rebels in the eastern Democratic Republic of Congo summarily kill and maim civilians.
There are heightened concerns that the abusive rebel force, largely inactive for a decade, is receiving Rwandan support for its operations in North Kivu province.
4 December march for peace
The Bishops have since called for a sense of responsibility by political actors in power and the opposition. They also challenged the international community to end duplicity and complacency towards multinationals and countries that are predators of the natural resources of the Democratic Republic of Congo.
The National Episcopal Conference urges vigilance and mobilisation of the entire nation. In conclusion, the Bishops invite Christians and people of good will to fast, pray, and make gestures of solidarity toward the displaced.
"We invite everyone to march peacefully on Sunday, 4 December," the Bishops' statement reads.