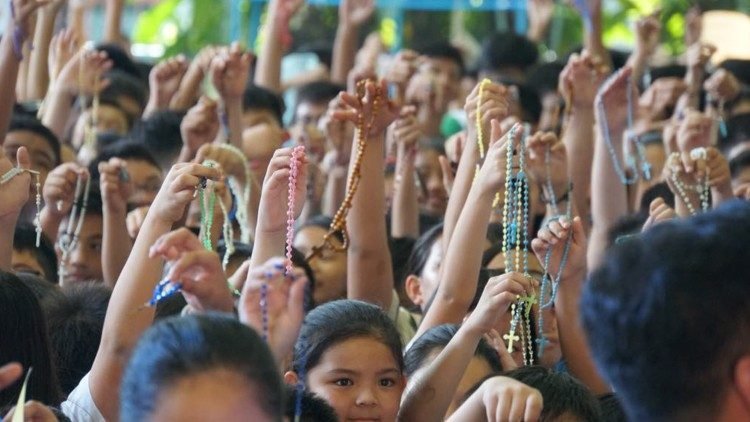 A group of children gathered to pray the rosary one day at a wayside shrine outside of Caracas in Venezuela in 2005. Some women who happened to come upon this group remembered Padre Pio's words, "When a million children pray the Rosary, then the world will change". Since then Aid to the Church in Need (ACN) has organized an annual One Million Children Praying the Rosary campaign on October 18, the Feast of St Luke, the Evangelist. I spoke with Jonathan Luciano, National Director for ACN in the Philippines, about the campaign that took place there on Thursday.
Children Praying the Rosary in the Philippines
Mr Luciano explained that the campaign was picked up in the Philippines even prior to the opening of an ACN office in 2016. Since the beginning, Dioceses across the Philippines had received invitations to join the campaign from ACN International. This is the third year that the ACN office in the Philippines has directly organized the campaign throughout the entire nation
Numbers participating
Participation in the campaign is strong in the Philippines. Mr Luciano says that "41 dioceses with 1,293 parishes and 777 schools" signed up. Most of the children stopped what they were doing at 9:00 in the morning to pray the rosary together for peace. Other children stopped in the afternoon to pray.
Orphans of the drug war highlighted
"This year, we decided to highlight one school", Mr Luciano told us. "We chose San José Academy. This is a school under the diocese of Kalookan and they have a very special program for orphans of those whose parents were killed by the drug war being done here in our country. We chose this because we wanted the children, also these orphans, to be the agents of reconciliation, of unity and peace."
These children, orphaned by the drug war, led the rosary at San José Academy this morning