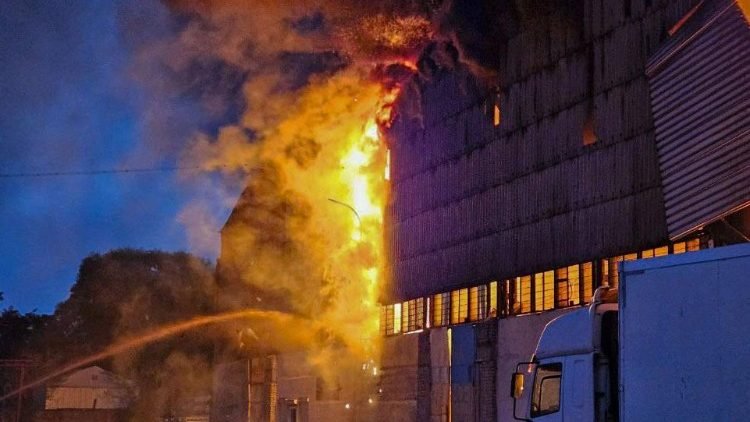 Cardinal Konrad Krajewski, the papal almoner, returns to Ukraine with a new delivery of humanitarian aid, and laments a recent attack on a Caritas Spes warehouse in Lviv.
By Benedetta Capelli
Cardinal Konrad Krajewski, the Prefect of the Dicastery for the Service of Charity, has expressed his sorrow in response to a Russian missile attack on a Caritas Spes warehouse in the western Ukrainian city of Lviv on Tuesday night.
Speaking with Vatican News by phone from Ukraine, the Polish-born Cardinal said the warehouse had frequently been used by the Dicastery for the Service of Charity to distribute humanitarian aid donated by the Pope to people in need.
"I feel deep sorrow," said Cardinal Krajewski. "They struck to destroy the possibility to help people who are suffering."
The Caritas Spes warehouse has temporarily housed power generators, which were later distributed to the most isolated regions affected by the conflict.
Caritas reported that the warehouse, along with its entire contents, was completely destroyed in the fire, consuming approximately 300 tons of humanitarian aid. No casualties were reported in the attack.
Renewed papal support for Ukraine
Cardinal Krajewski has returned to Ukraine to deliver a new shipment of aid, according to a press release from his Dicastery.
The Cardinal will also inaugurate a facility to shelter women and children in need, which was made possible through the Pope's support and the generosity of numerous donors.
"This house was built during the conflict to support the many people who have fled from areas under attack but who do not want to leave Ukraine and so have sought shelter in Lviv," said the press release on Wednesday.
The facility will also offer a soup kitchen for the poor in a welcoming environment.
Cardinal Krajewski will inaugurate the house in the name of Pope Francis as "a symbol of support, solidarity, and closeness to the countless people who have been compelled to flee due to the conflict, imparting his Apostolic Blessing."
The Cardinal also plans to visit various communities that are hosting refugees to express gratitude to "all the volunteers and individuals assisting people who suffer and are in need far from their homes."