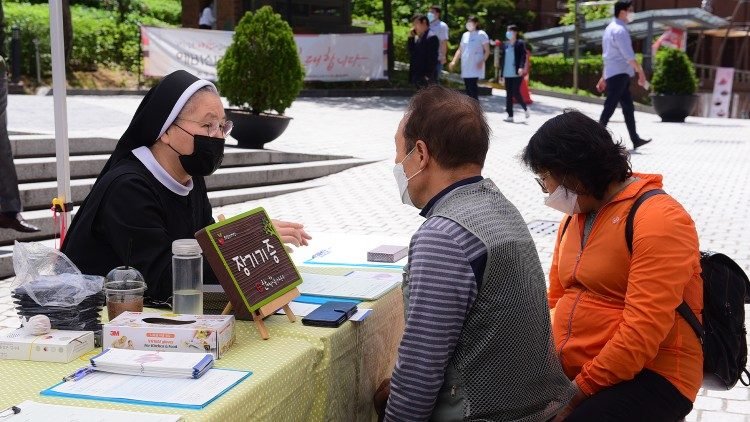 The Archdiocese of Seoul in South Korea organizes a blood drive to help supply medical institutions amid the coronavirus pandemic.
By Fr. Benedict Mayaki, SJ
Seoul Archdiocese organized a blood donation campaign on Wednesday to stimulate blood donations which have decreased across South Korea since the coronavirus outbreak.
"One Body, One Spirit" – the Archdiocese's life movement, chaired by Auxiliary Bishop Timothy Yu Gyoung-chon of Seoul, launched the campaign in collaboration with BloodNet of Korea. It was called "Myeongdong, Spread Love with Blood Donation."
Campaign organizers set up a blood donation bus in front of the Myeongdong Cathedral that stayed in place throughout Wednesday. Several priests, religious and lay faithful participated by donating blood on site. The organization also operated a life-sharing campaign booth where people received counseling on organ or stem cell donation.
"The blood supply has been running low due to the prolonged crisis of Covid-19 and the delay of school opening," observed a campaign organizer. "Even when the Covid-19 outbreak is contained, it's likely the blood supply will be disrupted because medical institutions and hospitals will then restart postponed surgeries."
Churches reopened
South Korea's churches reopened on 26 April after nearly two months of closure due to Covid-19.
However, strict social precautions of social distancing are maintained. For example, the Seoul Archdiocese insists that the faithful register in advance to restrict numbers at Mass. Catholics are also required to wear masks during church activities.
As of Thursday, South Korea reportedly has 10,991 confirmed coronavirus cases and 260 deaths.